KALMARs 50 YEARS YOUNG
1960s
The company was started on the 3rd of October 1967 by Michael Kalmar FRICS FSVA.
Although too young for World War II, Michael Kalmar was conscripted into the British Army in 1947, where he rapidly rose to the rank of Captain. When offered a promotion to a Major he had a decision to make regarding his career.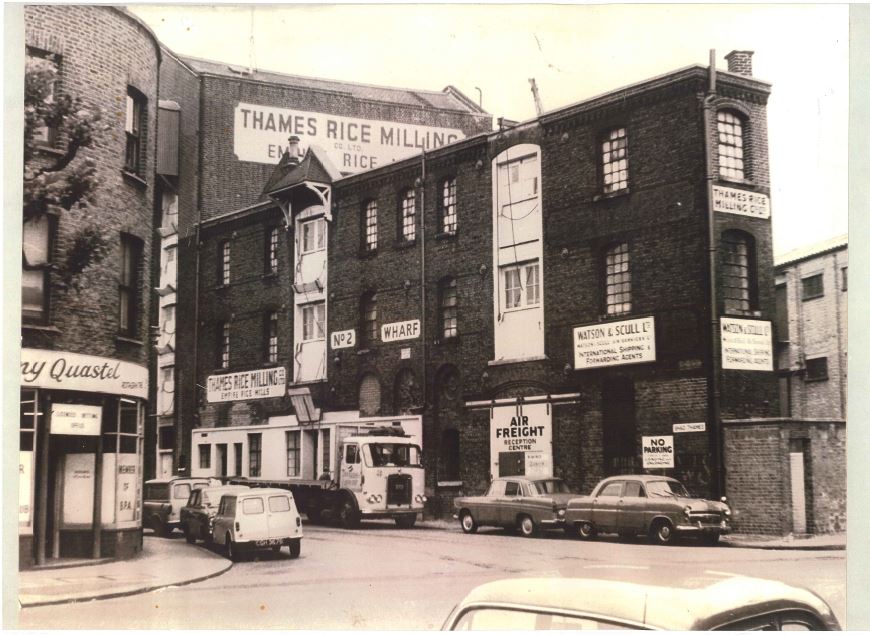 Having listed all the jobs he could think of, he concluded that after putting food in your belly the next most important thing for people is having a roof over your head. He had good communication skills, liked a challenge, enjoyed getting out and meeting people from all walks of life, and had an interest in the built environment. All of these pointed to property, so he joined Chamberlain and Willows, then the leading industrial Chartered Surveyors. Ten years later he moved to Rogers Chapman in the Strand, where he continued to progress his industrial agency career.
By 1967 Michael was one of the key fee earners at the company. With four hungry children to feed, many well established contacts and a rosy career before him he struck out on his own, taking a lease on a diminutive basement in Leith House, Gresham Street EC2. KALMARs was born. He was supported by his good friend Alan Parker and the firm initially traded as Alan Kalmar and Co. The fact that this took the company to the front of telephone directory did not escape his attention!
1970s
The business prospered and soon morphed into Michael Kalmar and Partners which in turn grew to become Kalmar Thomas and Atkins. At this time Michael, also being interested in residential property, started a partnership with Molly Baker, trading as Kalmar Baker. They acquired a former coal merchant's store and offices in what was then an up and coming position in Walton Street, behind Harrods.
The recession of the early 1970s was a challenging time for all in the property market, and Michael parted company with Thomas and Atkins. Having become a leaner and more efficient business, it moved to Blackfriars, continuing to act as industrial agents in South and East London. Industrial rents had by then had risen to the dizzy heights of £2.50 psf, with capital values of around £30 psf!
In 1977 Richard Kalmar joined his father, initially for just two weeks prior to going off to earn a fortune on the oil rigs in the Middle East. The promised job never materialised and Richard soon found he shared his father's passion for property. Over forty years on he is still running the business!
1980s
By the 1980s the London the docks had all but died, yet king Canute style planning policies were trying to keep the docks alive in multi floor Victorian wharves that were patently no longer fit for purpose. Persuading the authorities that the world had changed and that the future of the docks lay to the east, further down the Thames estuary was as much of a battle then as it is now. Despite this KALMARs sold many such buildings, including the St Saviour's Wharf, a dilapidated 100,000 sq ft wharf near Tower Bridge for £7 psf. Space there today is worth up to £2,000 psf!
KALMARs has always focused on expanding and interesting areas of East and South East London. Having sold over half a million square feet of former warehouses for development, the company sold the building in Walton Street, acquired Jamaica Wharf and moved into the area to pick up on resales. It was then a derelict multi floor Victorian building that had originally been used for importing building material. This attractive property is situated at the end of St Saviour's Dock and the company converted it into eight small offices retaining one for their own purposes.
This was a visionary and pioneering move at the time; setting up in an area that had suffered badly with the docks closing. With little competition then, KALMARs quickly grew to become the leading commercial agents in the inner south London area, a position it continues to hold today.
1990s
The business diversified to cover office agency for which there was growing demand, with rents reaching £25 psf in the early 90s - a level not to be seen again for 20 years. Development sites were highly sought after and KALMARs sold many of them, including the Leathermarket - a 130,000 sq ft former leather manufacturing works - for £10,500,000 (or nearly £80 psf).
London in the early and mid 90s was in deep recession, times were tough and for many years survival was the name of the game. By the end of the 90s the company was doing well and co-director, Roger Smith, who had joined the company in 1984, was becoming frustrated with pointing the growing number of residential applicants that came through the door to rivals. This led to the birth of KALMARs Residential, which specialised in development agency. This division soon prospered to become the leading residential development agents in the area. In need of more space, the residential division moved from Jamaica Wharf to a former leather working factory in Bermondsey Street. When this was developed by a longstanding client, The Acorn Property Group, the team moved next door into a another property KALMARs had sold them.
Noughties
By 2003 Michael Kalmar was 75 and although he still enjoyed work, travelling was getting too much and he retired, leaving Richard Kalmar to continue to run the business. He had a strong team behind him with Donald Walsh and Adrian Gurney as co-directors, Elaine Barker and Ewa Broda and a growing support team, which rose to a total of 20 staff.
Aiming to create a pincer movement across South London and grow the business, a new commercial office was opened in Bromley, in 2007.
The timing was not great and the depths of the recession of 2008 and 2009 resulted in this office closing. Roger Smith left the business to become a developer, and as a result, the residential business was consolidated back into Jamaica Wharf.
Teens
In 2012 Richard's son, Sebastian Kalmar, had qualified in Estate Management and was looking for a job. He planned to gain some experience before joining his father, but the company was struggling to recruit a new residential consultant - it seemed serendipity was knocking on the door. So Sebastian, who had already been assisting at weekends, joined the company in 2012. Since then he has rapidly learnt his trade and is now expanding the residential side of the business.
In 2014, two directors, both of eight years standing, coincidentally left the company in the same week. This timing seemed a blow at the time, but in hindsight serendipity was again knocking as better recruits were rapidly found and are now growing the departments faster than ever.
The company now has strong teams dealing with:
Development - Mirroring KALMARs unique contribution to the conversion of the docks, today's team combine great experience with youthful ambition to provide a strong force which is helping the regeneration of run down industrial buildings in inner South London, turning them into attractive residentially lead but often mixed use developments.
Offices in SE1 -KALMARs has won Co-star's award as the Most Active Agents on the Southbank in five separate years. This is judged by the leading aggregate website for commercial agents on the number of instructions and deals
Decentralised offices - The company is the clear market leader in dealing with the commercial space within residential developments acting for virtually all the top names in the market.
Retail/Leisure - Much of the growth of South London's retail market has been linked with mixed use and residential developments, which attracts a wide range of occupiers, including many restaurants and leisure users.
Residential - Bursting at the seams, KALMAR's residential department is looking to expand and open a new office under Sebastian Kalmar's direction where it can continue the rare and strong synergy between the commercial department selling residential sites and new homes.
KALMARs' unique breadth of services provides clients with advice which can clearly identify the most advantageous approach to their properties. In the emerging and fast changing areas they operate in, where maximum values fluctuate quickly, having a complete understanding of current values is essential to ensure that each property is marketed to its maximum potential.